Filomena de Andrade Booth
American Contemporary Abstract Artist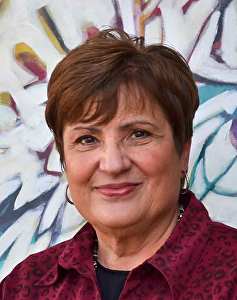 Filomena de Andrade Booth

Strong composition, visual texture, bold use of color, and trusting her intuition are just some of the elements that Filomena employs in creating works that elicit emotional responses from viewers. Her work, at times, may be subtle, and at other times vibrant and bold. She is a prolific painter and credits her ability to master a variety of techniques to her experience as an art teacher. Filomena considers herself an experimental abstract expressionist artist. Her paintings often begin with thin washes of paint followed by layered glazes of color. The addition of collage materials, texture, and metallics may be used to enhance the composition as it slowly emerges from the canvas. The process involves the gradual buildup of many layers of color and texture to create the final image. She holds a B.A. degree in Fine Art education from Newark State College, now Kean University, in New Jersey. She has taken a variety of graduate courses at Montclair State College in Montclair NJ, as well as studied at the Dunedin Art Center in Florida. She has also participated in and taught several art workshops in Florida and Texas as well as acted as juror for Art in the Square outdoor art festival in Southlake, Texas.

Education
Newark State College (Kean University) – Union, NJ – B.A. Art Education – 1965-1969
Montclair State College – Montclair, NJ – Graduate studies - 1970-1974
Dunedin Art Center – Dunedin, FL - 2002-2004
Experience
Wayne Hills High School – Art Teacher – 1969 – 1977
Owner of De Andrade Designs, a custom art business in Safety Harbor, FL – 1986 -1995
Art in the Square, Southlake, TX – Juror – 2007 -2008
Awards
Raymond James Financial Annual Art Show – 2000 – 2001 Honorable Mention
Florida Watercolor Society – 2003 American Artist Magazine Award – Shaman
International Society of Acrylic Painters (ISAP) – 2003 Lascaux/Savior Faire Award – Earth in the Balance
Winner Finalist - Outstanding Abstract
July 2010 BoldBrush Painting Contest - sponsor: Fine Art Views Newsletter

Surrender

First Place in Contemporary Fine Art International 2014 Summer Abstraction Competition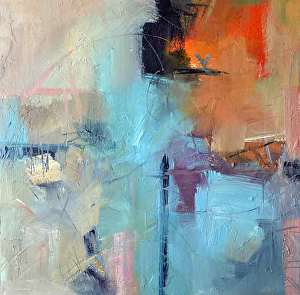 Dusk

Publications and Public Art
Cover Design for Wine and Cheese Pairings by Norm & Barbara Ray - 2006
Southlake Stampede 2007 - Steerway to the Arts - Public Art
Cover art - "Fragments of Thought" - for "Theology and the End of Doctrine" by Christine Helmer - 2014
AcrylicWorks - The Best of Acrylic Painting by Nancy Reyner - 2014 - "A Matter to Consider" page 109.

Gallery Representation 1987 - Present

First Impressions - Palm Harbor, FL - 1987-1989
Greywolf Gallery – Clearwater, FL – 1989 – 1992
Art At the Plaza – Indian Rocks, Florida – 1992-1994
Studio 1212, Clearwater, FL – 2002-2004
Florida Progress Art Gallery – New Port Richey, FL – 2003
So-Oh Fine Art Gallery – Lincoln, NE - 2005
Creative Arts Studio, Colleyville, TX – 2005
ARTS – Association of local Texas artists – 2005-2007
Trees of the Field- Southlake, TX – 2007
La Montage - Lewisville, TX - 2009
The Muse Fine Art Gallery, Denver, CO - 2012-2013
First Avenue Contemporary Art Gallery, Ketchum, ID - 2012-2013
The Good Art Company, Fredericksburg, TX - 2012-2014


Online Gallery Representation
My work is found on several online art gallery sites. Contact me for more information.

Contact information
Website – www.filomenabooth.com
Email – fil@filomenabooth.com

Artist Statement
To create a powerful and moving abstract image is a gratifying experience for any artist.
To have that image appreciated by the viewer is an even greater joy.