« Transformations | Main | Work in Progress »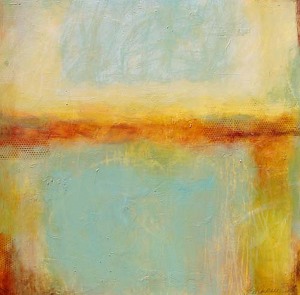 Come Sunrise
24"x24"x1.5"
Acrylic on canvas
Sold
It's been another one of those weeks. A doctor's appointment on Monday, hairdresser on Tuesday and I forget what else I had to do yesterday, but it took me away from home. I thought that since I'm out here in the country and have my own studio, that I'd have all the time in the world to create. Well, it doesn't always turn out that way.
But, today is a new day and although the sun isn't shining this morning, I've been looking forward to sunrise and an early start in the studio. I have two big canvases stretched and ready to go, so there are no excuses today.
Click
here
to see my entire portfolio of original abstract paintings.
Filomena de Andrade Booth
Texas Contemporary Abstract Artist
Comments
2 Responses to Getting an Early Start
Patricia Mortensen
via filomenabooth.com31 months ago
Hi Philomena - I love eyour work and some of mine has a tendency towards your style, mixed media in particular. I don't quite have the confidence you do to just let go and paint in this expressionist abstract style which I love for its blends of colour and textures and touchability. ( I used to dye fabrics and make clothes in the main so I am a recent painter). I was quite capable of breaking all the rules with fabric dyeing but keep feeling I have to make a painting look like something.......I know....how ridiculous, it is 'something'. Getting there though. Love you work and your website is great. I get FASO newsletter but haven't done their website thing yet but am part of a local community group one www.dargavillearts.co.nz Do you find you sell much from yourwebsite or do you use it as a portfolio.
Filomena Booth
via filomenabooth.com31 months ago
Thank you for the nice comments about my work, Patricia! I'm sure you'll be able to translate your textile talents on to canvas...never give up!

I don't sell a lot directly from my website but link to it from various other sources.
* indicates a required field