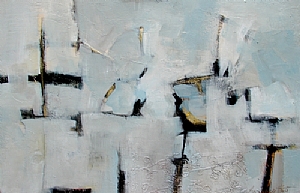 Ice and Lace
36"x24"x1.5"
Acrylic on Canvas
$625
After a busy two weeks having fun with family visiting us here in Texas, I am finally getting back into the studio.
"Ice and Lace" is my latest painting. The canvas is heavily textured, accented with metallic gold and a collaged,
lace element that adds an interesting element to the cool tones of this painting.

I am offering this painting at this price for one week only.
Sale ends on April 6, 2011
To purchase, please click here

Contact me to see a video showing detail shots of this painting.
To see my entire portfolio of original abstract paintings, please visit my website.
Filomena de Andrade Booth
Texas Contemporary Abstract Artist
Comment on or Share this Article →