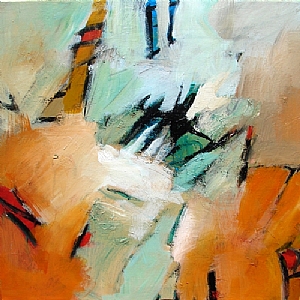 Earth and Wind
24"x24"x1.5"
Acrylic on canvas
Please visit my website to see my entire portfolio of original abstract paintings.
Contact me for more information about this painting.
Filomena de Andrade Booth
Texas Contemporary Abstract Paintings
Comment on or Share this Article →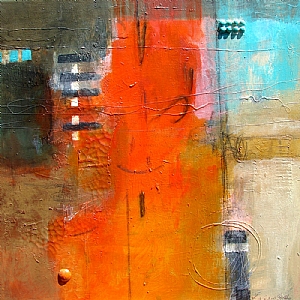 Back to Basics
24"x24"x1.5"
Mixed-media on canvas
Once in a while it's fun to look around the studio to find things to include or to hide in a painting. Several years ago I had cast some shapes out of PermaStone. As I was rummaging through my cabinet of odds and ends, I came across a couple of pieces that I thought would be fun to include in the painting. I also added clear tar gel, crackle paste, heavy gloss gel, oil pastel and a few collage pieces that I cut from a magazine. As I slowly started to build up the texture and layering the paint, I also started subtracting out some areas to reveal the coats of underlying color. Diluted gesso helped to "veil" areas that I thought were too dominant and I used glazes of transparent color to eventually bring the painting to completion.
For more information about this painting please
contact me
.
Filomena de Andrade Booth
Texas Contemporary Abstract Artist
Comment on or Share this Article →